Corporate Social Responsibility
Citywide has a proud history of providing services and support to the communities in which we operate and where our employees live, work and play. Through our Corporate Social Responsibility Program, we are committed to providing shared value for our host communities, our customers and our business. Our approach to corporate & social responsibility is framed by four key issues of concern to our customers and their community constituents:
– Education, Training and Jobs
– Environment & Sustainability
– Homelessness, Social Justice and Well-being
– Youth Opportunities
We are proud to support and partner with community organisations that are addressing such critical social issues. As a services company, we pride ourselves on maintaining and enhancing community assets and being actively involved in local communities; engaging with them to make positive social changes.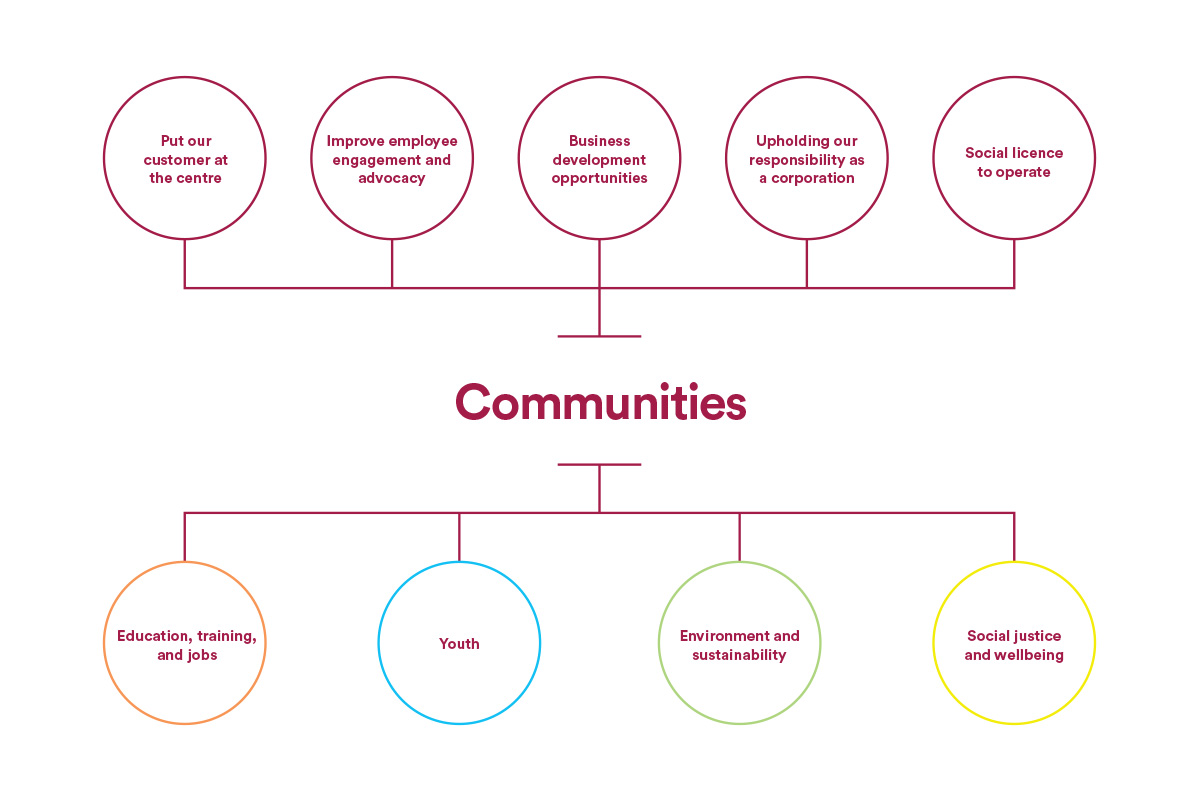 Partnerships
Through our Community Engagement Framework, we partner with selected social enterprises, charities and not-for-profits who share our corporate values and who are strategically placed to help solve the key issues of concern to our customers. Click through to view our current partner social procurement and community organisations (opens in new window).
Employee Volunteering
At Citywide, our staff proactively contribute over and above the day job to the wellbeing of their local communities and other social concerns further afield. This support varies from community to community and is demonstrated in a variety of ways, including the provision of paid leave for staff to volunteer with a community concern.
Financial Support & Matched Funding
Citywide proudly supports selected not-for-profits, charities and social enterprises with in-kind pro bono services, products and support. We also provide financial support to several partners to support them in meeting their strategic objectives, including matching funding from individual staff fundraising efforts.
Diversity & Inclusion
Having a social licence to operate is integral to our shared value approach with the community and all our stakeholders, with the common goal of fostering greater social cohesion. This supports our commitment to promoting diversity, equality and inclusion across our company without discrimination and we actively seek to create employment opportunities for the economically disadvantaged, disabled, CALD (culturally and linguistically diverse) communities and indigenous interests.
This policy covers all operational and administrative offices and sites of Citywide and subsidiaries such as Technigro. It also takes into account the company's capabilities and capacity to resource (staff, financial; operational; equipment, etc.).
Responsible Sourcing
Citywide and its subsidiaries including Technigro are committed to responsible sourcing practices.
We regularly review our operations and supply chains with the aim of ensuring that we, our suppliers and third-party business partners operate without infringing human rights. We do not tolerate any form of modern slavery practices including child or forced labour.
To help us achieve our aim, if you become aware of any related concerns, we encourage you to let us know by contacting us through this website (click through to Contact page).
Sustainability
Our goal is to minimise our environmental footprint and to inspire and equip our people with 'world's best' sustainability standards to effectively manage the environmental aspects of our operations, whilst ensuring continuous improvement and zero harm to the environment and communities in which we work.
We use a market leading environmental data management platform to manage and monitor energy usage and costs across all of our operations. The data allows us to monitor our carbon generation and provides us with information to evaluate initiatives developed and implemented to reduce our carbon footprint.
We are also a foundation partner in the Melbourne Renewable Energy Project (MREP). Through this program - led by our parent the City of Melbourne Council - we will purchase renewable energy through a wind farm being constructed for the MREP in regional Victoria.
Citywide reaffirms commitment to responsible sourcing practices
Supplier Code of Conduct released in line with Modern Slavery legislation.
Title :
Citywide reaffirms commitment to responsible sourcing practices
Item date :
Jul 14, 2020, 02:00 AM
Citywide has pledged to continue to partner with its suppliers to support human rights and stamp out exploitative work practices across its global supply chain with the release of a Supplier Code of Conduct (click to view).
The Code has been shared with Citywide's key contractors and suppliers – including those who are assessed to be more susceptible to modern slavery risks due to the nature of their products, services or geographical areas the products or services originate from.
"We've been particularly keen to contact suppliers of apparel, fertilisers and herbicides, and construction materials in countries where there have been historical cases of child labour and other exploitative practices," explained Citywide's Head of Procurement, Peter Mackie.
"Over the coming months, we'll be checking in with our key suppliers overseas, as well as random suppliers across Australia to see if we can offer any support in this area. We are certainly not immune from exploitative working practices in this country either."
All suppliers contracted by Citywide are expected to adhere to our responsible sourcing commitment outlined in the Code.
These include an expectation to provide "a fair and ethical workplace" in which each employee is protected from bullying or abuse and supported by policies ensuring fair working conditions. Citywide staff will also receive appropriate awareness information about modern slavery issues..
Under the Modern Slavery Act 2018, large companies in Australia, including Citywide, are required to prepare annual statements outlining the measures they're taking to tackle modern slavery risks across their operations and supply chains.
"Modern slavery" refers to any situations of exploitation in which a person cannot refuse or leave their work because of threats, violence or deprivation of liberty – including forced labour, child labour, domestic servitude and deceptive recruiting practices.
Citywide's continued commitments to responsible sourcing practices have been made on behalf of all companies within the Citywide Group including Citywide Service Solutions, Technigro and Just Roots.
Media Contact:
Simon Mossman - Group Corporate Communications
M 0427 307 216
E simon.mossman@citywide.com.au
Content category :
Business & Finance
Media Releases
Procurement