Corporate Social Responsibility
Citywide has a proud history of providing services and support to the communities in which we operate and where our employees live, work and play. Through our Corporate Social Responsibility Program, we are committed to providing shared value for our host communities, our customers and our business. Our approach to corporate & social responsibility is framed by four key issues of concern to our customers and their community constituents:
– Education, Training and Jobs
– Environment & Sustainability
– Homelessness, Social Justice and Well-being
– Youth Opportunities
We are proud to support and partner with community organisations that are addressing such critical social issues. As a services company, we pride ourselves on maintaining and enhancing community assets and being actively involved in local communities; engaging with them to make positive social changes.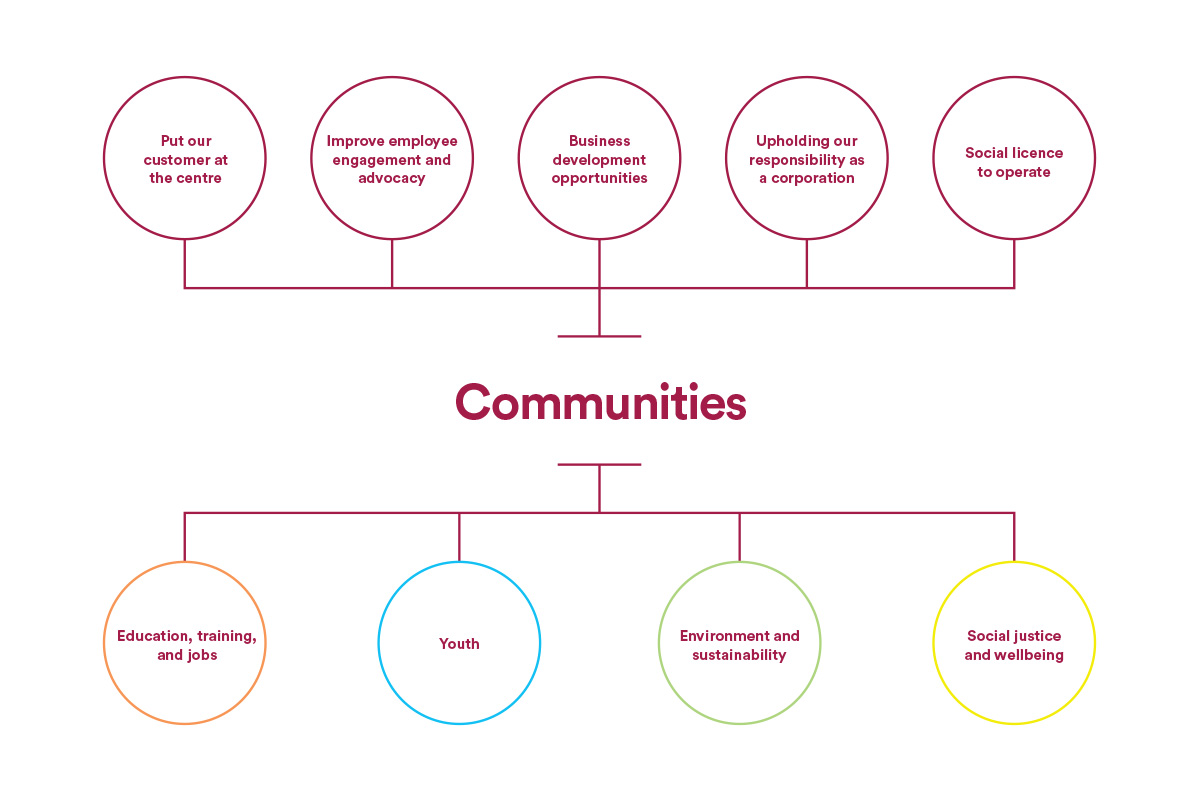 Partnerships
Through our Community Engagement Framework, we partner with selected social enterprises, charities and not-for-profits who share our corporate values and who are strategically placed to help solve the key issues of concern to our customers. Click through to view our current partner social procurement and community organisations (opens in new window).
Employee Volunteering
At Citywide, our staff proactively contribute over and above the day job to the wellbeing of their local communities and other social concerns further afield. This support varies from community to community and is demonstrated in a variety of ways, including the provision of paid leave for staff to volunteer with a community concern.
Financial Support & Matched Funding
Citywide proudly supports selected not-for-profits, charities and social enterprises with in-kind pro bono services, products and support. We also provide financial support to several partners to support them in meeting their strategic objectives, including matching funding from individual staff fundraising efforts.
Diversity & Inclusion
Having a social licence to operate is integral to our shared value approach with the community and all our stakeholders, with the common goal of fostering greater social cohesion. This supports our commitment to promoting diversity, equality and inclusion across our company without discrimination and we actively seek to create employment opportunities for the economically disadvantaged, disabled, CALD (culturally and linguistically diverse) communities and indigenous interests.
This policy covers all operational and administrative offices and sites of Citywide and subsidiaries such as Technigro. It also takes into account the company's capabilities and capacity to resource (staff, financial; operational; equipment, etc.).
Responsible Sourcing
Citywide and its subsidiaries including Technigro are committed to responsible sourcing practices.
We regularly review our operations and supply chains with the aim of ensuring that we, our suppliers and third-party business partners operate without infringing human rights. We do not tolerate any form of modern slavery practices including child or forced labour. Access our Modern Slavery Statement here (click to download).
To help us achieve our aim, if you become aware of any related concerns, we encourage you to let us know by contacting us through this website (click through to Contact page).
Sustainability
Our goal is to minimise our environmental footprint and to inspire and equip our people with 'world's best' sustainability standards to effectively manage the environmental aspects of our operations, whilst ensuring continuous improvement and zero harm to the environment and communities in which we work.
We use a market leading environmental data management platform to manage and monitor energy usage and costs across all of our operations. The data allows us to monitor our carbon generation and provides us with information to evaluate initiatives developed and implemented to reduce our carbon footprint.
We are also a foundation partner in the Melbourne Renewable Energy Project (MREP). Through this program - led by our parent the City of Melbourne Council - we will purchase renewable energy through a wind farm being constructed for the MREP in regional Victoria.
Collaboration key to delivering parks and play spaces
Citywide veteran Jarryn reflects on a rich apprentice-to-leadership journey and the key ingredient in turning parks into paradise!
Title :
Collaboration key to delivering parks and play spaces
Item date :
Jun 8, 2021, 14:00 PM
Most people working in urban parks and play spaces are naturally drawn to the "Great Outdoors", and to the restorative peace and surprising solitude that can be found in our open spaces.
But for Citywide project manager Jarryn Pittonet, it's more about the people – not just the "great folks" that make up our project teams, but increasingly, the inspiring designers, landscape architects, and council planners who he spends a large proportion of his days with.
"Designing parks and play spaces is much more about collaboration now than when I joined Citywide in 2006," says Jarryn. "Not just between architects and developers, and contractors and councils, but also with the citizens who use the facilities we're developing."
Jarryn says social media and online engagement have rapidly accelerated residents' involvement in open space planning. "It's easier for councils to engage with residents, of course, but there's also a greater focus on transparency and efficiency – particularly with meeting State Government deadlines for spending project funds."
Jarryn sees greater community engagement as a "win-win" for both communities and councils, which use online channels and public forums to canvas residents' opinions on everything from the play facilities their children want to the tree species they'd like planted in their streets.
"Of course, some people will always find a reason to complain," laughs Jarryn, "but with tree species – just as with all aspects of conservation – it's imperative for councils to defer to the experts. These days councils have a very good idea of which trees perform better and are safer for residents, and they recommend those specific species when they canvas residents' opinions."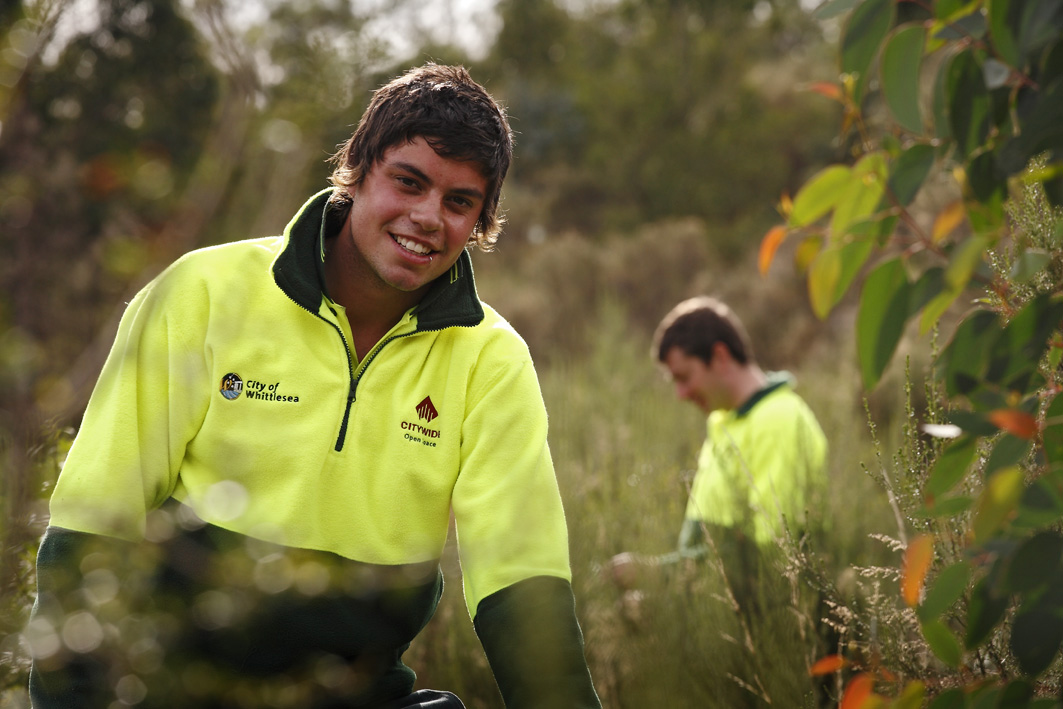 From apprentice to project manager
It's been a long road since Jarryn joined Citywide as a parks apprentice servicing the Whittlesea contract out of Epping. While he still oversees tree planting in Whittlesea, his management role sees him travelling further afield – overseeing open spaces and play space contracts across the Greater Melbourne metropolitan area.
Since he became Project Manager for LGA Capital Works in 2017, Jarryn has overseen some of our most prominent and prestigious play space developments – including multi-million-dollar upgrades at Taylors Lakes, Keilor Downs, Essendon and Port Melbourne.
Jarryn cites the Taylors Lakes Flagship Park and Woodlands Park in Essendon as two of the projects he's proudest of.
"I think it's the sheer size of these projects that I enjoyed the challenge of," he says. "They both involved dozens of people, lots of work with architects and council planners, extensive community consultations… not just over playground designs, but state-of-the-art sports facilities, footpaths, landscaping, indigenous trees, you name it."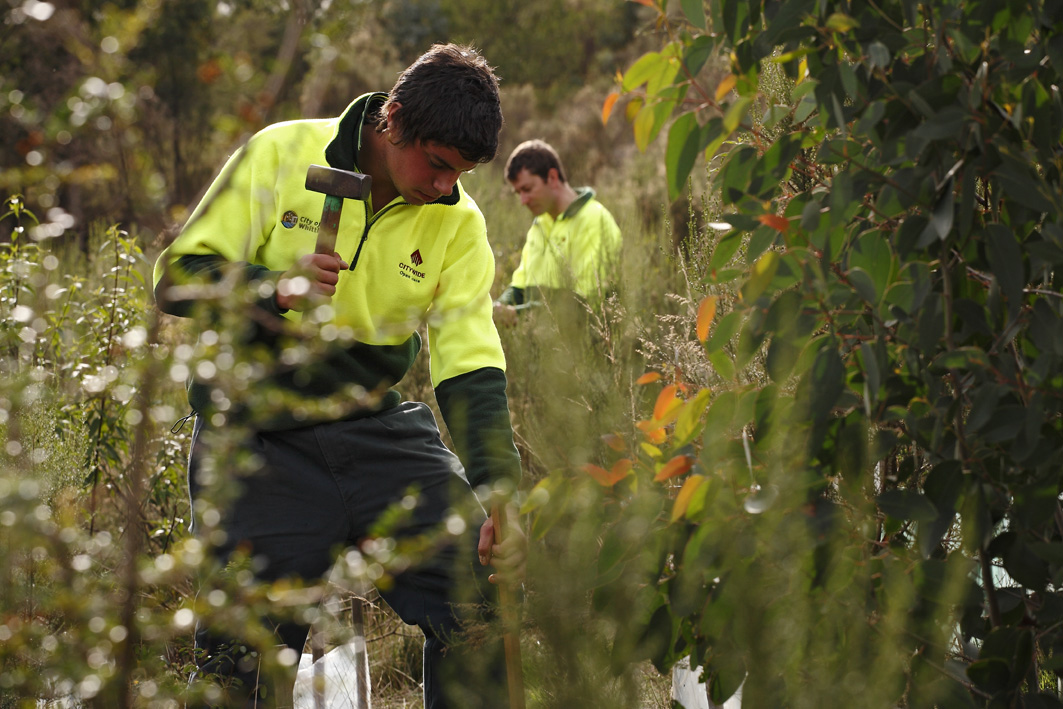 In recent years, Jarryn has seen play spaces evolve into richly imagined and professionally equipped amenities, with sculpted play equipment, slick skate and parkour facilities, professional basketball and tennis courts – all thoughtfully combined with native plantings, creative sculptures, and even some watering holes and nesting-boxes for native wildlife.
"Play space design is a meticulous science these days," he says. "In Australia we're lucky to have both state and local governments that recognise the importance of outdoor space for families who often have little in their own homes. These places not only provide a great place for kids to play, but a vital source of fitness and wellbeing, and a place where literally hundreds of people meet and make friends. Their importance to community health cannot be underestimated."
A company where people stay
With such personal passion, it's no surprise that Jarryn has stuck with Citywide for 15 years. And, he says, he has no intention of moving on anytime soon.
"I think the average role in our industry is something like two years," says Jarryn. "But it's interesting to see how much higher it is at Citywide. This company really 'gets' people, and there are so many opportunities if you're prepared to work hard.
"I've had chances to grow my career, because Citywide has given me the opportunity to grow myself. I started with a Cert III in Parks and Gardens while I was an apprentice. Then I did Landscape Construction at NMIT, and a grad certificate in Project Management at RMIT. They were both in my own time, but Citywide picked up the bill, to help me keep up to speed with the projects I was working on."
For Jarryn, staying ahead of the curve is not just a personal aspiration, but a professional imperative. "Citywide is growing, but so too are advances in tree planting, parks management, play space design. It's important that we keep up to speed with new ways of working, with the latest CRM and management tools. Citywide also has a very strong approach to safety, and I think that's something that our clients and the public really appreciate.
"The other thing I love about working here is that client relationships are a top priority – actually, the company's number one concern. Our customer relationships are critical, and I have some incredible partners in the councils I work with."
Media Contact:
Simon Mossman - Group Corporate Communications
M 0427 307 216
E simon.mossman@citywide.com.au
Content category :
Apprenticeships
Citywide Life
Horticulture Services
Landscape Construction
Parks & Gardens
People & Culture