Corporate Social Responsibility
Citywide has a proud history of providing services and support to the communities in which we operate and where our employees live, work and play. Through our Corporate Social Responsibility Program, we are committed to providing shared value for our host communities, our customers and our business. Our approach to corporate & social responsibility is framed by four key issues of concern to our customers and their community constituents:
– Education, Training and Jobs
– Environment & Sustainability
– Homelessness, Social Justice and Well-being
– Youth Opportunities
We are proud to support and partner with community organisations that are addressing such critical social issues. As a services company, we pride ourselves on maintaining and enhancing community assets and being actively involved in local communities; engaging with them to make positive social changes.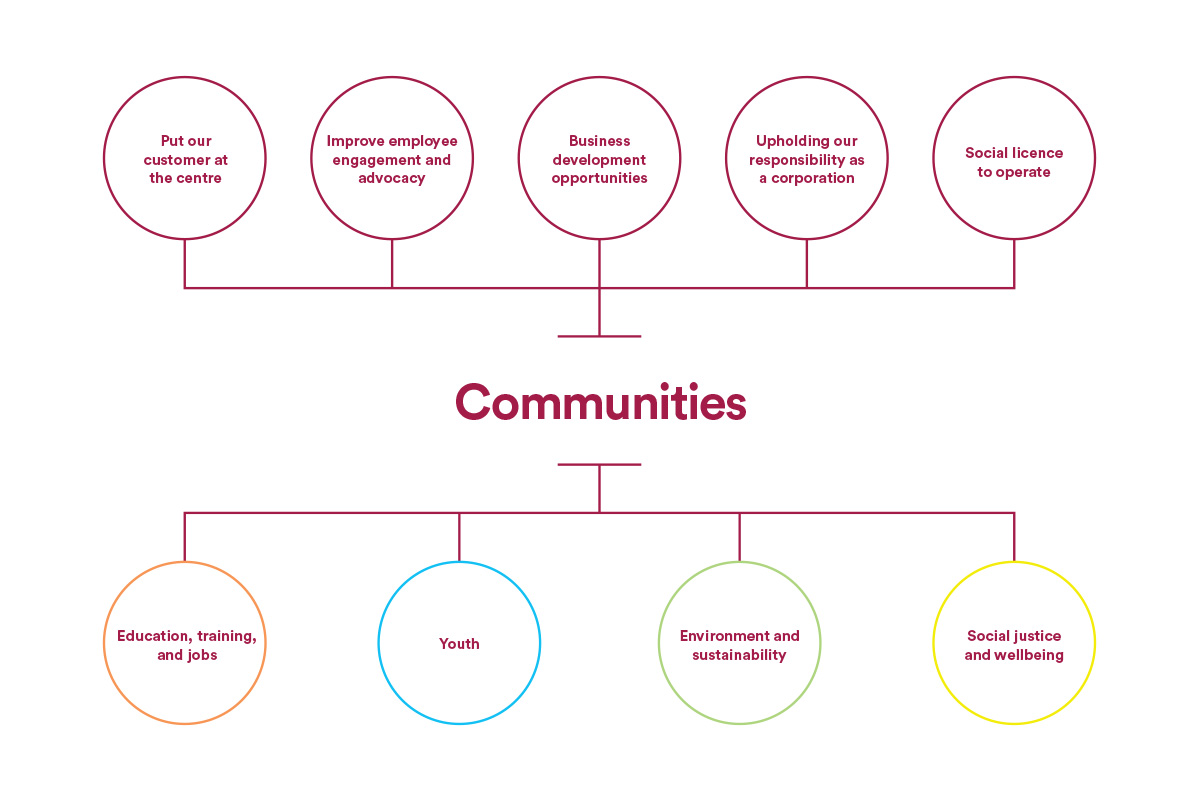 Partnerships
Through our Community Engagement Framework, we partner with selected social enterprises, charities and not-for-profits who share our corporate values and who are strategically placed to help solve the key issues of concern to our customers. Click through to view our current partner social procurement and community organisations (opens in new window).
Employee Volunteering
At Citywide, our staff proactively contribute over and above the day job to the wellbeing of their local communities and other social concerns further afield. This support varies from community to community and is demonstrated in a variety of ways, including the provision of paid leave for staff to volunteer with a community concern.
Financial Support & Matched Funding
Citywide proudly supports selected not-for-profits, charities and social enterprises with in-kind pro bono services, products and support. We also provide financial support to several partners to support them in meeting their strategic objectives, including matching funding from individual staff fundraising efforts.
Diversity & Inclusion
Having a social licence to operate is integral to our shared value approach with the community and all our stakeholders, with the common goal of fostering greater social cohesion. This supports our commitment to promoting diversity, equality and inclusion across our company without discrimination and we actively seek to create employment opportunities for the economically disadvantaged, disabled, CALD (culturally and linguistically diverse) communities and indigenous interests.
This policy covers all operational and administrative offices and sites of Citywide and subsidiaries such as Technigro. It also takes into account the company's capabilities and capacity to resource (staff, financial; operational; equipment, etc.).
Responsible Sourcing
Citywide and its subsidiaries including Technigro are committed to responsible sourcing practices.
We regularly review our operations and supply chains with the aim of ensuring that we, our suppliers and third-party business partners operate without infringing human rights. We do not tolerate any form of modern slavery practices including child or forced labour. Access our Modern Slavery Statement here (click to download).
To help us achieve our aim, if you become aware of any related concerns, we encourage you to let us know by contacting us through this website (click through to Contact page).
Sustainability
Our goal is to minimise our environmental footprint and to inspire and equip our people with 'world's best' sustainability standards to effectively manage the environmental aspects of our operations, whilst ensuring continuous improvement and zero harm to the environment and communities in which we work.
We use a market leading environmental data management platform to manage and monitor energy usage and costs across all of our operations. The data allows us to monitor our carbon generation and provides us with information to evaluate initiatives developed and implemented to reduce our carbon footprint.
We are also a foundation partner in the Melbourne Renewable Energy Project (MREP). Through this program - led by our parent the City of Melbourne Council - we will purchase renewable energy through a wind farm being constructed for the MREP in regional Victoria.
E-waste collections clear the way for eco-conscious Melburnians
Citywide rolls out new kerbside collection service for conscientious residents to responsibly dispose of small quantities of e-waste.
Title :
E-waste collections clear the way for eco-conscious Melburnians
Item date :
Nov 9, 2021, 13:00 PM
It seems incredible that on the cusp of 2022, with world leaders committing to major new climate targets, a significant proportion of Melbourne's e-waste still winds up being dumped – often leaking harmful chemicals – into our city's landfill.
Until now.
From November 8th, a new partnership between the City of Melbourne, Sustainability Victoria, Citywide and Good Cycles will roll out a new kerb-side collection service for conscientious city residents to responsibly dispose of small quantities of e-waste.
Eligible items will include most smaller electronic devices, from laptops and tablets, to phones, batteries, computer accessories, modems, kettles, toasters, hairdryers, and old plugs and cables.
If successful, the trial will form the foundation for a long-term collection service to support the proper processing and reuse of e-waste – which although banned from Victoria's landfill in 2019 and the subject of several free recycling services, still forms a significant part of our regular waste streams.
The Australia-first trial will run for eight weeks across the inner city, from Docklands to Parkville and Kensington to Carlton, where small e-waste items will be picked up by a fleet of cargo bicycles operated by Citywide's long-term social enterprise partner, Good Cycles.
The bicycles will then rendezvous with the small Citywide trucks that for the past two years have been collecting e-waste from libraries and office buildings around the city.
"Up to now, taking an old toaster or kettle down to the Dynon Road transfer station or the local library has been a real pain for city residents," says Citywide's Innovation Manager, Liam Crowley. "E-waste far too often finds its way into general waste, even though it's not legal. If a device has batteries in it, it poses a serious fire risk in waste trucks, transfer stations and landfill sites – not to mention leaching chemicals into the soil and groundwater."
The idea of a separate e-waste collection may once have seemed prohibitively expensive, but Liam and colleagues Shauna Boyle and Jeni Jackson realised that efficient and environmentally friendly collections could be conducted by the 'Good Cyclists' who pick up recycling and green waste from the cafés in Melbourne's laneways.
"We really hope people will use this service, because if there's a good uptake there'll be a greater chance of having a collection service for residents," says Liam. "As we all know, a lot of these devices are not built to last – so it's really important to provide a proper collection service for them so that they can enter a proper recycling stream and form part of our circular economy."
Citywide has set up a special online portal where residents can book their e-waste pickups, either on the doorstep or contactless from the kerb-side. Melbourne City Council is also offering free e-waste bins to residents living in blocks of 20 apartments or more, and has established drop-off points at North Melbourne Library, East Melbourne Library and Boyd Community Hub on Southbank.
The City of Melbourne's e-waste collection trial will run until January 12th in the following postcodes: 3051, 3054, 3050, 3010, 3052, 3031, 3032, 3003, 3008, 3000 and 3053.
To book an e-waste collection online, please visit: https://ewastecom.citywide.com.au/
Additional tips for minimising your e-waste: https://www.sustainability.vic.gov.au/recycling-and-reducing-waste/at-home/recycling-at-home/e-waste/minimise-your-e-waste
Media Contact:
Simon Mossman - Group Corporate Communications
M 0427 307 216
E simon.mossman@citywide.com.au
Content category :
Media Releases
Sustainability
Urban Issues
Waste Management