Corporate Social Responsibility
Citywide has a proud history of providing services and support to the communities in which we operate and where our employees live, work and play. Through our Corporate Social Responsibility Program, we are committed to providing shared value for our host communities, our customers and our business. Our approach to corporate & social responsibility is framed by four key issues of concern to our customers and their community constituents:
– Education, Training and Jobs
– Environment & Sustainability
– Homelessness, Social Justice and Well-being
– Youth Opportunities
We are proud to support and partner with community organisations that are addressing such critical social issues. As a services company, we pride ourselves on maintaining and enhancing community assets and being actively involved in local communities; engaging with them to make positive social changes.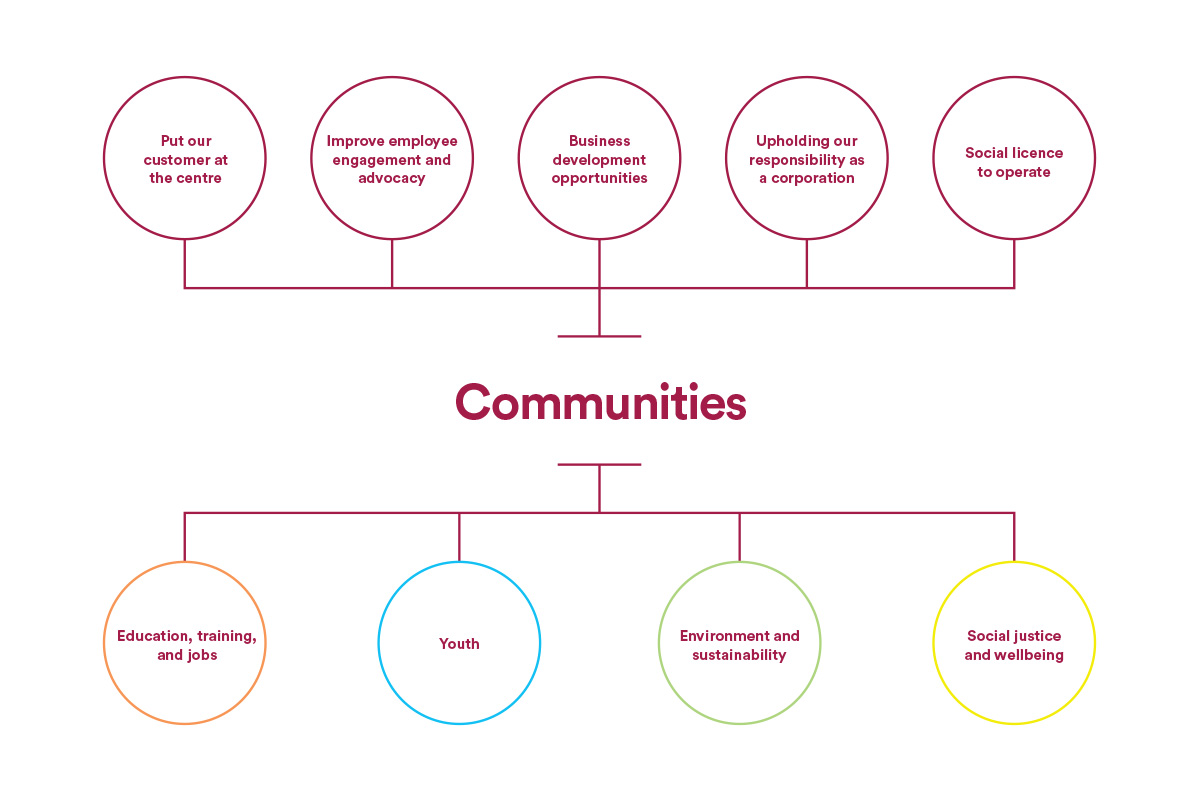 Partnerships
Through our Community Engagement Framework, we partner with selected social enterprises, charities and not-for-profits who share our corporate values and who are strategically placed to help solve the key issues of concern to our customers. Click through to view our current partner social procurement and community organisations (opens in new window).
Employee Volunteering
At Citywide, our staff proactively contribute over and above the day job to the wellbeing of their local communities and other social concerns further afield. This support varies from community to community and is demonstrated in a variety of ways, including the provision of paid leave for staff to volunteer with a community concern.
Financial Support & Matched Funding
Citywide proudly supports selected not-for-profits, charities and social enterprises with in-kind pro bono services, products and support. We also provide financial support to several partners to support them in meeting their strategic objectives, including matching funding from individual staff fundraising efforts.
Diversity & Inclusion
Having a social licence to operate is integral to our shared value approach with the community and all our stakeholders, with the common goal of fostering greater social cohesion. This supports our commitment to promoting diversity, equality and inclusion across our company without discrimination and we actively seek to create employment opportunities for the economically disadvantaged, disabled, CALD (culturally and linguistically diverse) communities and indigenous interests.
This policy covers all operational and administrative offices and sites of Citywide and subsidiaries such as Technigro. It also takes into account the company's capabilities and capacity to resource (staff, financial; operational; equipment, etc.).
Responsible Sourcing
Citywide and its subsidiaries including Technigro are committed to responsible sourcing practices.
We regularly review our operations and supply chains with the aim of ensuring that we, our suppliers and third-party business partners operate without infringing human rights. We do not tolerate any form of modern slavery practices including child or forced labour.
To help us achieve our aim, if you become aware of any related concerns, we encourage you to let us know by contacting us through this website (click through to Contact page).
Sustainability
Our goal is to minimise our environmental footprint and to inspire and equip our people with 'world's best' sustainability standards to effectively manage the environmental aspects of our operations, whilst ensuring continuous improvement and zero harm to the environment and communities in which we work.
We use a market leading environmental data management platform to manage and monitor energy usage and costs across all of our operations. The data allows us to monitor our carbon generation and provides us with information to evaluate initiatives developed and implemented to reduce our carbon footprint.
We are also a foundation partner in the Melbourne Renewable Energy Project (MREP). Through this program - led by our parent the City of Melbourne Council - we will purchase renewable energy through a wind farm being constructed for the MREP in regional Victoria.
In the sustainability saddle
Managing city's waste all in a 'good' day's work for Nathan and Gavin.
Title :
In the sustainability saddle
Item date :
Oct 3, 2019, 03:00 AM
Criss-crossing paths with Citywide's garbage truck fleet amid the hustle and bustle of Melbourne's busy CBD doesn't faze bicycle waste collector Nathan Taylor.

In fact, the Good Cycles staff member is very comfortable in the saddle as part of the team driving sustainability through waste services around the city.

Good Cycles undertakes a range of operational tasks for Citywide in a forward-thinking partnership focused on creating an efficient, sustainable city while supporting the creation of job opportunities for people with barriers to stable, secure employment.

In particular, Good Cycles – with Nathan as one of their regular riders - manages the nimble collection of food waste from CBD cafes and restaurants and delivered to the Degraves Street Recycling Facility.

At the facility, foods scraps are consumed by an anaerobic digestion machine and turned into environmentally safe grey water before being pumped out to a western suburbs water treatment plant.

It's an occupation that Nathan acknowledges delivers many benefits, including flexibility and freedom to enjoy his riding along with the nimbleness and efficiency of bike-based community services.

Nathan joined Good Cycles' Pedal Empowerment Program PEP after moving from Adelaide to Melbourne to help care for his sister Brit who lives with Cerebral Palsy.

During his time in the PEP he designed and built a custom bike to allow her to have increased mobility and get out with more independence.

Nathan is now employed by Good Cycles and is valued member of the team and his ambition and dedication is infectious to everyone he works with.

"I love Good Cycles like family. The Pedal Empowerment Program (PEP) supported me to get out again and rekindle my passion for bikes," he says.

"A few years before I joined the PEP, I was injured in a sporting accident. I didn't ever expect to feel this good about myself and my future again."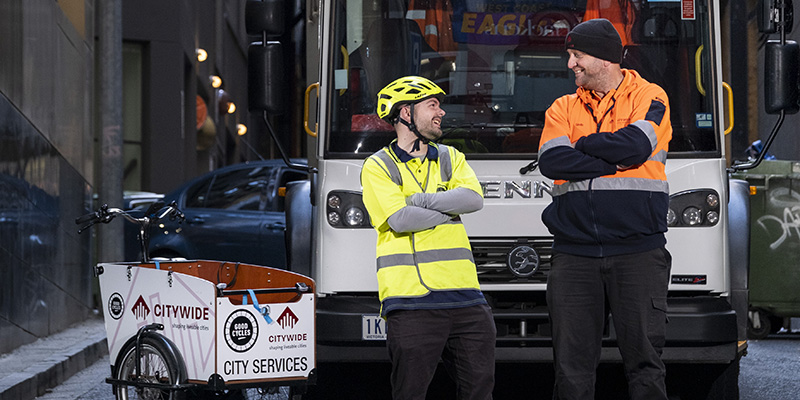 Photo: Nathan finds his work syncs in seamlessly with that of waste collection truck driver Gavin Tapper.

Media Contact:
Simon Mossman - Group Corporate Communications
M 0427 307 216
E simon.mossman@citywide.com.au
Content category :
People & Culture
Rubbish Truck Driver
Sustainability
Urban Issues
Waste Management