Corporate Social Responsibility
Citywide has a proud history of providing services and support to the communities in which we operate and where our employees live, work and play. Through our Corporate Social Responsibility Program, we are committed to providing shared value for our host communities, our customers and our business. Our approach to corporate & social responsibility is framed by four key issues of concern to our customers and their community constituents:
– Education, Training and Jobs
– Environment & Sustainability
– Homelessness, Social Justice and Well-being
– Youth Opportunities
We are proud to support and partner with community organisations that are addressing such critical social issues. As a services company, we pride ourselves on maintaining and enhancing community assets and being actively involved in local communities; engaging with them to make positive social changes.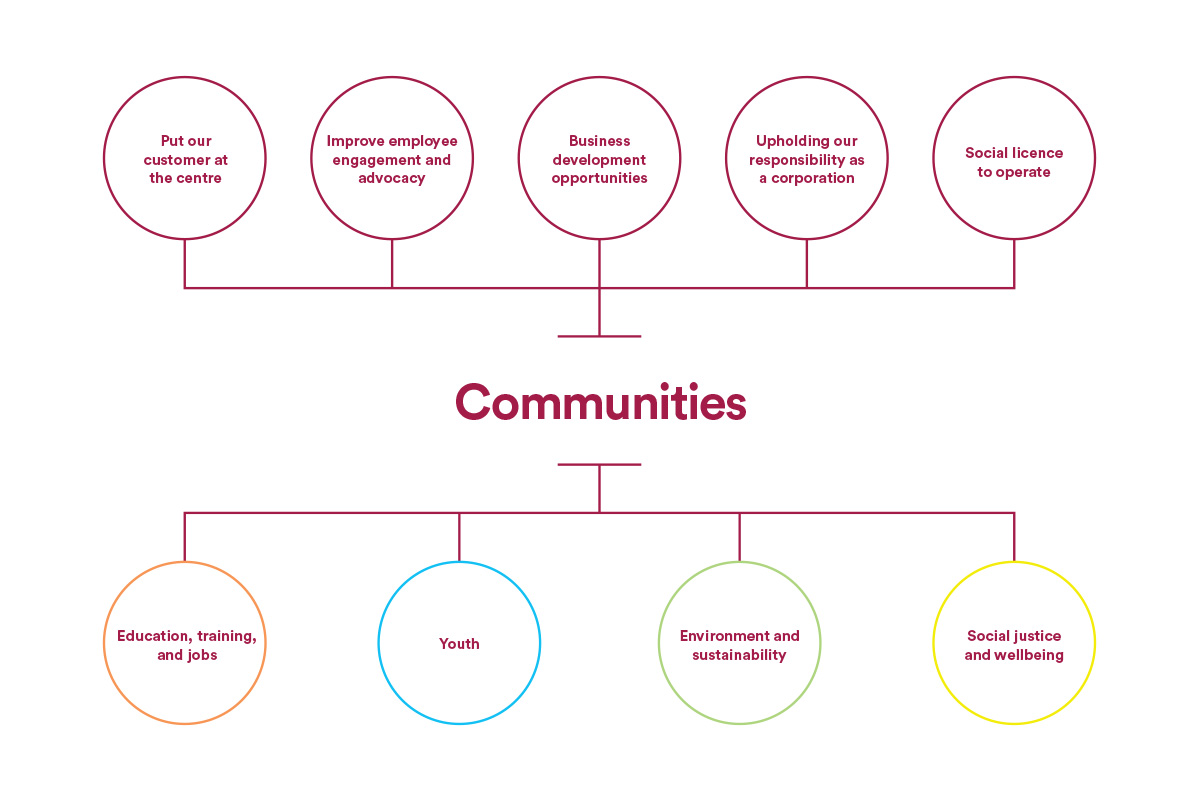 Partnerships
Through our Community Engagement Framework, we partner with selected social enterprises, charities and not-for-profits who share our corporate values and who are strategically placed to help solve the key issues of concern to our customers. Click through to view our current partner social procurement and community organisations (opens in new window).
Employee Volunteering
At Citywide, our staff proactively contribute over and above the day job to the wellbeing of their local communities and other social concerns further afield. This support varies from community to community and is demonstrated in a variety of ways, including the provision of paid leave for staff to volunteer with a community concern.
Financial Support & Matched Funding
Citywide proudly supports selected not-for-profits, charities and social enterprises with in-kind pro bono services, products and support. We also provide financial support to several partners to support them in meeting their strategic objectives, including matching funding from individual staff fundraising efforts.
Diversity & Inclusion
Having a social licence to operate is integral to our shared value approach with the community and all our stakeholders, with the common goal of fostering greater social cohesion. This supports our commitment to promoting diversity, equality and inclusion across our company without discrimination and we actively seek to create employment opportunities for the economically disadvantaged, disabled, CALD (culturally and linguistically diverse) communities and indigenous interests.
This policy covers all operational and administrative offices and sites of Citywide and subsidiaries such as Technigro. It also takes into account the company's capabilities and capacity to resource (staff, financial; operational; equipment, etc.).
Responsible Sourcing
Citywide and its subsidiaries including Technigro are committed to responsible sourcing practices.
We regularly review our operations and supply chains with the aim of ensuring that we, our suppliers and third-party business partners operate without infringing human rights. We do not tolerate any form of modern slavery practices including child or forced labour.
To help us achieve our aim, if you become aware of any related concerns, we encourage you to let us know by contacting us through this website (click through to Contact page).
Sustainability
Our goal is to minimise our environmental footprint and to inspire and equip our people with 'world's best' sustainability standards to effectively manage the environmental aspects of our operations, whilst ensuring continuous improvement and zero harm to the environment and communities in which we work.
We use a market leading environmental data management platform to manage and monitor energy usage and costs across all of our operations. The data allows us to monitor our carbon generation and provides us with information to evaluate initiatives developed and implemented to reduce our carbon footprint.
We are also a foundation partner in the Melbourne Renewable Energy Project (MREP). Through this program - led by our parent the City of Melbourne Council - we will purchase renewable energy through a wind farm being constructed for the MREP in regional Victoria.
Seasoned chef finds sweet aftertaste following bitter COVID disruption
Jordan was preparing to set up a restaurant consultancy business when his professional dreams were scuppered by COVID-19.
Title :
Seasoned chef finds sweet aftertaste following bitter COVID disruption
Item date :
May 18, 2020, 14:00 PM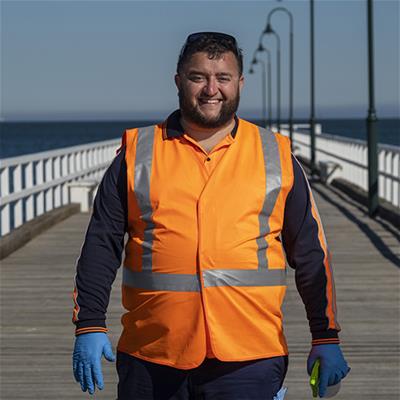 Jordan Lakin was on the verge of setting up his own restaurant consultancy when his professional dreams were scuppered by COVID-19.
But instead of sitting at home lamenting his loss, the 32-year-old has set out to get even with the virus.
Since April 20th, Jordan has been leading the first Citywide team charged with disinfecting public 'touchpoints' across the City of Port Phillip, as part of the Victorian Government's Working for Victoria job creation scheme for displaced workers in the COVID-19 crisis.
And far from wallowing in the bitter taste of his own thwarted dreams, the seasoned chef says he's enjoying the surprising sweetness of his new gig.
"I'm out in the open every day, doing an important job, and everyone we meet is genuinely happy to see us," he says. "People are always stopping to say thank-you and getting off park benches and tram stops so we can clean them.
"And at least five or six times a day, a car will stop in the street and shout to us what a great job we're doing and how much they appreciate it. How nice is that?"
Jordan has been a chef for 16 years and two years ago set out to establish his own restaurant consultancy – offering restaurateurs support to reinvigorate their kitchens, devise new menus, train staff, and all the other aspects of 'turning around' an old business.
"We'd laid all the foundations, established a great client-list, and had it all ready to go bar the website," he says. "But then COVID came along and ruined things!"
Like other hospitality operators, restaurants are likely to be among the last businesses to return to normal after the crisis – but Jordan knows he's lucky to have his cleaning job to fall back on.
And with a CV that includes leading restaurants in London and Melbourne, wildlife camps in the Kimberley, and the world's longest banana split in Innisfail (8.04 kilometres, if you must know), we reckon it won't be long before Jordan's back doing what he does best.
Media Contact:
Simon Mossman - Group Corporate Communications
M 0427 307 216
E simon.mossman@citywide.com.au
Content category :
Citywide Life
Cleansing Crew Member
Community Engagement
COVID19
COVID19 Cleaning Services
Health, Safety, Environment, Quality
People & Culture
Urban Issues