Corporate Social Responsibility
Citywide has a proud history of providing services and support to the communities in which we operate and where our employees live, work and play. Through our Corporate Social Responsibility Program, we are committed to providing shared value for our host communities, our customers and our business. Our approach to corporate & social responsibility is framed by four key issues of concern to our customers and their community constituents:
– Education, Training and Jobs
– Environment & Sustainability
– Homelessness, Social Justice and Well-being
– Youth Opportunities
We are proud to support and partner with community organisations that are addressing such critical social issues. As a services company, we pride ourselves on maintaining and enhancing community assets and being actively involved in local communities; engaging with them to make positive social changes.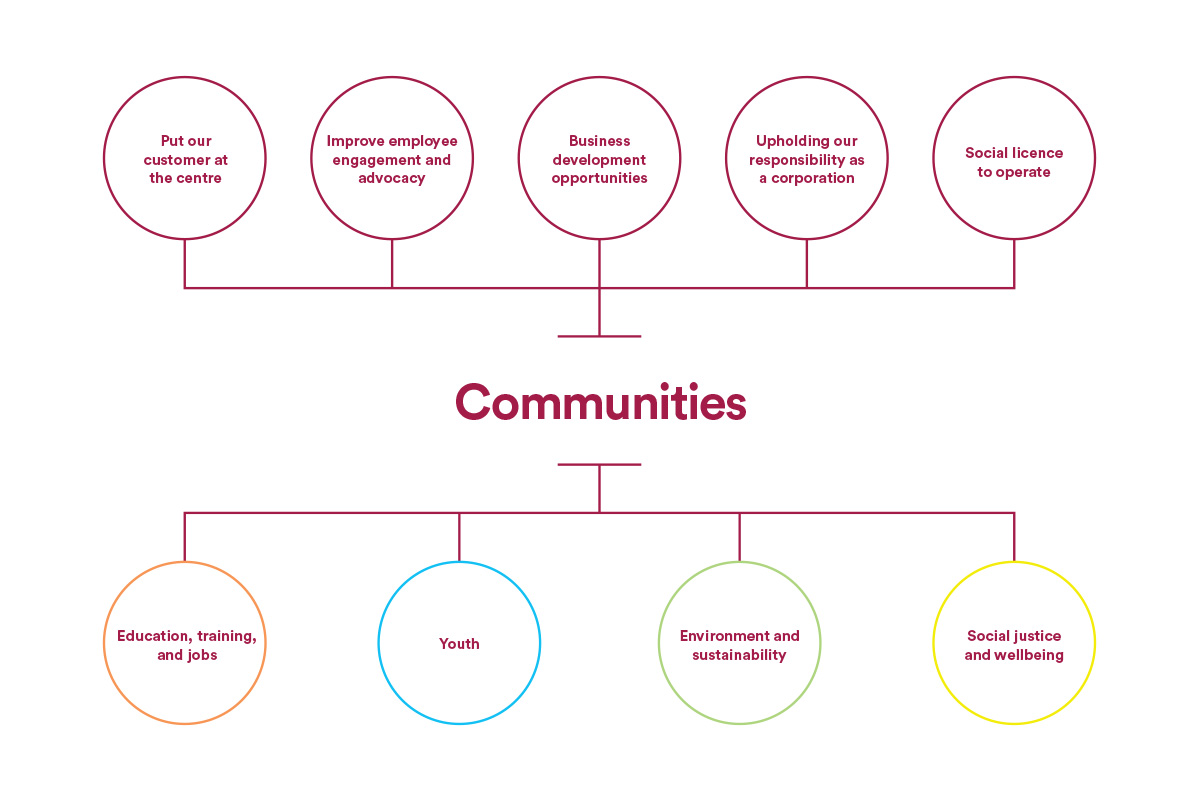 Partnerships
Through our Community Engagement Framework, we partner with selected social enterprises, charities and not-for-profits who share our corporate values and who are strategically placed to help solve the key issues of concern to our customers. Click through to view our current partner social procurement and community organisations (opens in new window).
Employee Volunteering
At Citywide, our staff proactively contribute over and above the day job to the wellbeing of their local communities and other social concerns further afield. This support varies from community to community and is demonstrated in a variety of ways, including the provision of paid leave for staff to volunteer with a community concern.
Financial Support & Matched Funding
Citywide proudly supports selected not-for-profits, charities and social enterprises with in-kind pro bono services, products and support. We also provide financial support to several partners to support them in meeting their strategic objectives, including matching funding from individual staff fundraising efforts.
Diversity & Inclusion
Having a social licence to operate is integral to our shared value approach with the community and all our stakeholders, with the common goal of fostering greater social cohesion. This supports our commitment to promoting diversity, equality and inclusion across our company without discrimination and we actively seek to create employment opportunities for the economically disadvantaged, disabled, CALD (culturally and linguistically diverse) communities and indigenous interests.
This policy covers all operational and administrative offices and sites of Citywide and subsidiaries such as Technigro. It also takes into account the company's capabilities and capacity to resource (staff, financial; operational; equipment, etc.).
Responsible Sourcing
Citywide and its subsidiaries including Technigro are committed to responsible sourcing practices.
We regularly review our operations and supply chains with the aim of ensuring that we, our suppliers and third-party business partners operate without infringing human rights. We do not tolerate any form of modern slavery practices including child or forced labour.
To help us achieve our aim, if you become aware of any related concerns, we encourage you to let us know by contacting us through this website (click through to Contact page).
Sustainability
Our goal is to minimise our environmental footprint and to inspire and equip our people with 'world's best' sustainability standards to effectively manage the environmental aspects of our operations, whilst ensuring continuous improvement and zero harm to the environment and communities in which we work.
We use a market leading environmental data management platform to manage and monitor energy usage and costs across all of our operations. The data allows us to monitor our carbon generation and provides us with information to evaluate initiatives developed and implemented to reduce our carbon footprint.
We are also a foundation partner in the Melbourne Renewable Energy Project (MREP). Through this program - led by our parent the City of Melbourne Council - we will purchase renewable energy through a wind farm being constructed for the MREP in regional Victoria.
Waste truck driver Casper winning over her colleagues & customers
Keeping up with the boys is no longer an ambition for truck driver Casper Effemey, who wants to overtake them, and prove herself "whatever my gender".
Title :
Waste truck driver Casper winning over her colleagues & customers
Item date :
Jun 21, 2020, 14:00 PM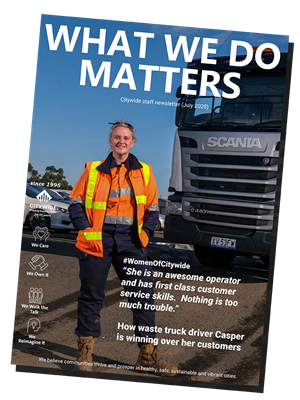 Keeping up with the boys is no longer an ambition for Casper Effemey. The 30-year old Citywide driver wants to overtake them, and prove herself "whatever my gender".
Like a growing number of women in physically demanding jobs, Casper is fed up with receiving accolades just because she's a woman.
"I've been offered jobs before just to fill a quota, but no thanks – that's not for me," she says. "I want to be the best at everything I do, and I want to be employed for being the best."
Three months after joining the waste collection crew at Dynon Road, Casper is on track to be just that.
"She's mastered all three operating systems – rear lift, front lift and hook – and she does it quicker than most of the guys," says Collections Manager Brett Crellin. "She's definitely already one of our best."
Born into the business
It's no surprise that Casper is excelling in her new role.
Growing up as part of a long-haul trucking business, she could drive a car at seven and an HR (heavy rigid) truck at 11.
"My dad always wanted me to drive, much to mum's horror," laughs Casper. "I did try the white-collar route, working for an insurance company for a few years – but the trucks kept calling me back."
In early 2019, inspired by "a strong 30-year itch", Casper decided to return to what she loves best.
First, she helped her sister Liv, who runs a traffic control business, by driving a truck-mounted attenuator ('bump truck') on several freeway construction projects. Then an opportunity came up on SEEK for drivers at Dynon Road.
"They didn't mention gender at all," says Casper. "So I wanted in".
Today, Casper is not only in – she's fast becoming a legend at Victoria's largest waste transfer station, where she drives a 28-tonne-capacity hooklift truck, the biggest in the Citywide fleet.
"I'm sure it looks pretty interesting: a little blond woman driving a 28-tonne truck," she says. "But at home I've got my own Mack Tipper, which goes to 45 tonnes full load.
"A lot of people don't actually realise that the bigger the truck, the easier it is to drive."
Praise from the top
Casper's work has certainly been getting noticed around the traps.
Adrian Valente, who oversees service contracts at the City of Yarra, describes her as "an awesome operator with first-class customer service skills".
"Please make her permanent to our area," says Adrian. "Having a driver with common sense and understanding is immensely helpful to a little depot like ours."
Casper drives trucks on all the runs at Dynon Road – commercial, green waste, resource recovery – for a multitude of public and private clients.
"Just today, I had a nursing home ring up to compliment me on how helpful and professional she was," says Brett. "She's fantastic at every aspect of this job – and there's no way I'm letting her go!"
So does her boss think Casper's gender is a challenge, or a blessing?
"To be honest, the latter," says Brett. "She has great passion for her work, she always puts the clients first, and she keeps her truck spotless. At the same time, she can talk the talk with the boys, and she's a bit of a tomboy…"
"A bit?" laughs Casper. "I'm a total tomboy. If someone was to describe me, they'd probably say I was a loud-mouthed tomboy.
"Put it this way – I have two pairs of shoes: my steel caps and my riding boots. The last time I wore heels was at my high school graduation!"
Media Contact:
Simon Mossman - Group Corporate Communications
M 0427 307 216
E simon.mossman@citywide.com.au
Content category :
Citywide Life
Diversity, Equality, Inclusion
People & Culture
Rubbish Truck Driver
Waste Transfer Operations
Waste Transfer Station