Sep 13, 2020, 14:00 PM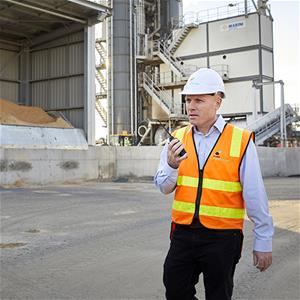 When Citywide flipped the switch at its cutting-edge Laverton asphalt plant on March 1st, COVID-19 had just arrived in Victoria, and the prospects for the local economy – let alone the construction sector – were looking increasingly uncertain.
Fast forward six months, and the Italian-made plant is a rare chink of light on a largely gloomy horizon. According to Stephen McArthur, newly appointed GM of the Citywide Asphalt Group (CAG), the plant's sustained production owes a lot to major road and infrastructure projects, but also to the resilient dedication of CAG's 14 staff – who have kept their focus firmly on business beyond COVID.
"A lot of credit is due to the team who commissioned the plant, and the builders from Marini, who were committed to get it finished on schedule," says McArthur. "But I've also been incredibly impressed by the resilience of our staff, who've done a fantastic job at keeping everything going – despite changing work practices and strict cleaning and social distancing protocols."
CAG is a 50-50 joint venture between Citywide and Fulton Hogan, which was formed in 2016 and has another busy production facility providing a range of ecologically-focused asphalt products in North Melbourne.
According to McArthur, the rapid growth in demand for asphalt and 'green asphalt' products inspired construction of the Laverton plant using the world's leading Marini technology in 2019. "Asphalt production has become a lot more environmentally-focused in recent years, and we've been working hard to develop more low-temperature mixes and recycled products that will appeal to our clients," says McArthur, who ran Fulton Hogan's asphalt business before moving to CAG.
A busy winter
Clients include the City of Melbourne, which has continued a busy program of road resurfacing, and the Taxiway Zulu project covering the taxiway pavement at Melbourne Airport.
"The runway works normally get done at night to avoid the flights coming in and out, but at the moment we're able to do larger tonnages during the day," says McArthur. "Plus the roads are much quieter during the day, so we've been able to do higher volumes on our patching works as well.
"We've been quite busy in the first two months of winter, which would normally be a relatively quieter period for us."
The Laverton plant aims to service Melbourne's fast-developing western region, as well as growing demands for 'green asphalt' – including mixes produced at lower temperatures, and reclaimed asphalt pavement (RAP) made with reprocessed waste asphalt and aggregates.
Laverton's state-of-the-art plant is capable of producing all these varieties at up to 200 tonnes per hour, depending on the type of asphalt. The four-tonne mill runs on 100% renewable energy, and its bins are capable of storing 300 tonnes of temperature-controlled asphalt for up to 48 hours.
CAG's flagship product is GreenPave, an advanced mix which has high bitumen RAP content and provides solid durability and performance. The plant has also begun producing a recycled plastic product, GreenPave Plas, with a recycled content capacity of up to 60%.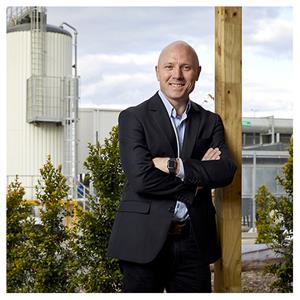 Energy savings
"The Laverton plant is helping our industry reduce its carbon footprint," explains McArthur. "The storage tanks are well insulated, the plant runs with a reduced fuel consumption, there's a gas temperature reduction of 10-15°C and energy savings of at least 5%. Plus we have a 'blue smoke' system which reduces emissions and odours."
As well as reducing pollution and reusing waste asphalt, CAG is continually working to improve the quality of its product through a NATA-qualified research lab at its North Melbourne plant. "The goal is always to produce asphalt at temperatures with lower emissions, which can endure the rigorous demands of city roads and pavements," says McArthur.
The new GM says he's "incredibly grateful" for the chance to run such a progressive enterprise. After 15 years in concrete, quarrying and asphalting, landing at a business with a human culture like the Citywide Asphalt Group's was, he says, a very appealing prospect.
"I feel very fortunate to be working with such a great bunch of people," says McArthur. "In the past few weeks, I've seen how hard everyone here works, and I've been really impressed how they've embraced new management while dealing with so many other changes. They really are an incredibly resilient and dedicated team."
Media Contact:
Simon Mossman - Group Corporate Communications
M 0427 307 216
E simon.mossman@citywide.com.au