Aug 20, 2020, 03:00 AM
On the eve of his 40th birthday, Angelo Martino was understandably exhausted.

Since he became a full-time civil works and footpaths team member at Citywide, Angelo has travelled the entire length of life's rich path – experiencing soaring highs and plunging lows, love, loss, heartbreak and joy; and, once in a while, a little comfort in the kindness of strangers.

And that's all in the past 12 months.

Ange, as his workmates call him, is one of life's true heroes. Over the past six years, he and his devoted wife Tracey have opened their doors to 22 foster children, in addition to their three biological children, Anton, Siarna and Avita.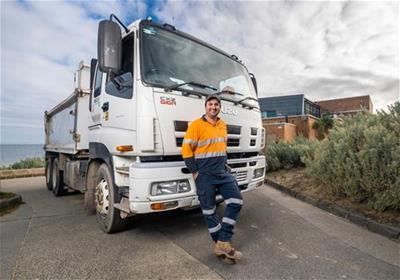 When Ange moved from a casual to a full-time position on our Bayside civil infrastructure team last year, no one at Citywide knew the amazing secret of he and his wife's 'other lives'.

In fact, it wasn't until his colleague, Neil Bradley, received a call from Tracey's mother Dianne in late November 2019 that the truth began slowly to come out.

That phone call set in train a series of events that would change Ange and Tracey's lives forever.


Life turned on its head
Last August, soon after Ange joined Citywide full time, he returned home from work one Friday afternoon to find their latest foster child, a three-year old boy, unconscious on his bedroom floor. That evening, the little boy (who cannot be named for legal reasons) was diagnosed with a rare brainstem tumour; a month later, he passed away.

"He'd only been with us for two months, but he was a big part of the family," says Ange, wiping away tears. "That day, something died in all of us."

The next three months were a blur of grief, guilt, and devastating sorrow. The boy's little sister, who still lives with the Martinos, turned two years old. Ange continued to throw himself into his work. The Martinos' home was wrapped in a cloak of sadness.

Then in early December, Ange's path took another dramatic turn.

"I got a call one morning saying I had to come into my kids' school the next day for an urgent meeting. My car had just broken down, and it was turning into a crappy week. I just thought, 'what the heck's going to come next?'"

What came next was a bolt from the blue. The next day, as Ange and Tracey were driving with their children to school, a voice came over the car radio telling them that a surprise was waiting for them at home.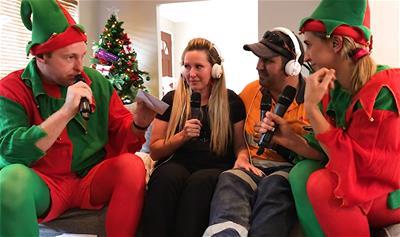 While they were out, KIIS 101.1 presenters Jason Hawkins and Polly 'PJ' Harding had descended on the Martinos' eastern suburbs home, which they proceeded to transform into a 'Feelgood Christmas' surprise. (VIDEO: If you can watch the result (click to open in new window) without shedding a tear, you're tougher than we are!)

As well as new furniture and armfuls of toys, the 'refurb' came with $20,000 in a savings account and an $80,000 Ford Everest – music to the ears of the carless Martinos!

Citywide were, of course, in on the act – with Ange's workmates only too happy to shoulder his work while he took some time off.

"We knew about the tragedy with his little boy, of course, but it only came out later just how much he and Tracey have done for so many troubled children," says Nick Marinucci, the operations supervisor who oversees Ange's team.

"For someone to be doing a tough job like he does and raising a family, and then doing all this as well – that's something quite incredible that the rest of us can only shake our heads in admiration at."


Support where it counts
For Angelo, the fact that both he and Tracey have such supportive colleagues has carried them through what will always be the toughest year of their lives.

"I've always had huge support from Citywide, initially from Jaron Manson and James Grady who were so kind when we had our tragedy, and since then from Nick and Michael Scopel. A lot of bosses wouldn't be so understanding, but these guys have all been amazing to me."

The Martinos' own amazing journey began in Wangaratta, where they ran a small takeaway and convenience store before they moved to Melbourne.

"We used to get a lot of poorer families in the store – children with old clothes and no shoes. Tracey was always giving away free food! So when we sold our business in 2014, we said 'let's do foster caring for children who aren't as lucky with their families as we are'."

Since then, they've provided a home to 22 children – all but two of whom have gone back to live with their parents, grandparents or family guardians.

"We still keep in touch with most of them, send them birthday gifts and stuff," says Ange. "We've got a scrapbook for each of the kids who comes to live with us. It's tough when they go, of course… that's when you can see a grown man cry!"

These kids have all been part of our family. They often call us 'mum and dad'. We've seen them take their first step or kick their first ball. It's terrible when they go. You just hope they'll get the same amount of love back in their own home as they had with us. You do what you can, you know?"

Most of us here at Citywide will never know what that's like. Most of us have a tough enough time balancing our work and family commitments – let alone taking on someone else's children. But we are in awe of Angelo and Tracey Martino – two real-life heroes who we are very proud to call part of our own family.

Replay: watch KIIS 101.1 presenters' Christmas surprise for the Martino family (opens in new window)

Note: Foster Care Week runs from 13-19 September.
Media Contact:
Simon Mossman - Group Corporate Communications
M 0427 307 216
E simon.mossman@citywide.com.au