Nov 24, 2020, 13:00 PM
When Nena Cosgrove joined Citywide's drainage unit as a truck jockey in June 2018, she was the only woman on the team.

Just two years later, there are three women in the department: one driving a truck, one jockeying, and one heading up the administration. "I'm very proud of having these strong ladies kicking goals in such a male-dominated industry," says their Operations Manager, Abs Ramen.
Nena has come a long way since she was a young "roustabout" working on farms and running a takeaway business in Orange, NSW.

When she arrived at Citywide, she had no experience with commercial vehicles – "I was just an outdoorsy person with a bit of mechanical knowledge". But after 12 months as a jockey, she swapped seats, got her HR licence, and quickly became one of the most accomplished drivers in the unit.
"Everyone in the team has amazing things to say about Nena," confirms her Operations Support colleague, Lisa Parker. "She loves her job, and she's always proactive and helpful to our clients."
Working with care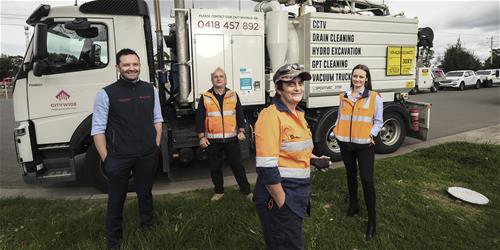 "We often get positive comments from the people we work with, who are surprised to see two girls operating a big combo-truck," says Nena. "But I love this job so much – and I think we actually take a bit more time and care than some of the boys do!"
Nena and jockey Hayley Hodgson operate one of Citywide's six eductor trucks, which are equipped with mechanised root-cutting systems and high-pressure water jets for unblocking drains, digging up pipes, and clearing roots with minimal damage to the trees themselves.
"There's a different challenge every day, and no two days are ever the same," says Nena. "And the lads at Citywide? They just treat me as one of the boys!"
Nena, 47, says her year and a half as a jockey gave her plenty of operational practice before she "swapped seats" and became a driver. "It's no tougher than driving a car," she reports. "Although sometimes squeezing down some of the small side-streets can be a bit of a challenge!"
A lady at the controls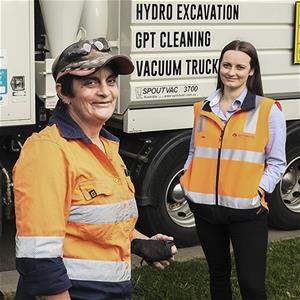 Since she arrived at the drainage unit in July 2019, Operations Support team leader Lisa Parker has slowly but steadily been upgrading the business's software, systems and processes.

Lisa says the transition to a new Ops Manager enabled her to oversee some other transitions – away from paper-based job cards to a digitised real-time scheduling and reporting system.
"I was given the freedom to make a few entrepreneurial management decisions," laughs Lisa. "I'm only 30 and my previous experience in finance and marketing gave me the confidence to suggest these changes, and to make them happen!
"Our new systems have a lot less room for human error, are far less laborious, and provide our clients with a higher level of professionalism when it comes to reporting and communication."
Lisa has also been implementing the new processes among the other businesses she looks after, helping to train the supervisors and get crew members on board with the progressive new IT systems.
"I'm the kind of person who commits 110% to whatever I'm doing," she says. "When I started at Citywide, looking after drain cleaning and root cutting could not have been further from my dreams! But I'm really enjoying my job right now. Abs is a very supportive and encouraging boss, who's let me go for it. We all have the same vision and want Citywide to be successful in everything we do.
"This is only the beginning, and we are already making small achievements, but I believe it's going to make a huge difference to all our commercial businesses over time."

Group Photo: L-R Operations Manager Abs Ramen, Operations Supervisor Peter Iaconis, Nena and Lisa
Media Contact:
Simon Mossman - Group Corporate Communications
M 0427 307 216
E simon.mossman@citywide.com.au