Jun 13, 2022, 14:00 PM
When 17 up-and-coming arborists were presented with certificates and neatly-trimmed bonsai trees at the 'Class of 2022 Graduation' in Melbourne last month, it signalled a continuing push by Citywide to overcome the skills shortage that's crippling Australia's tree industry.
A week earlier, the company joined peak body Arboriculture Australia at its national conference on the Gold Coast, to help launch a compelling new industry advocacy campaign called Arborists Don't Grow on Trees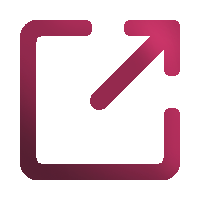 .
Citywide has spearheaded the development of the campaign, which is designed to lift the industry's visibility by taking it from a specialised niche into the mainstream, ultimately to attract more people into the trade.
It's a tough time for arboriculture in Australia, with arborists listed as one of 57 trades suffering critical shortages on the Government's Industry Skills Shortage list.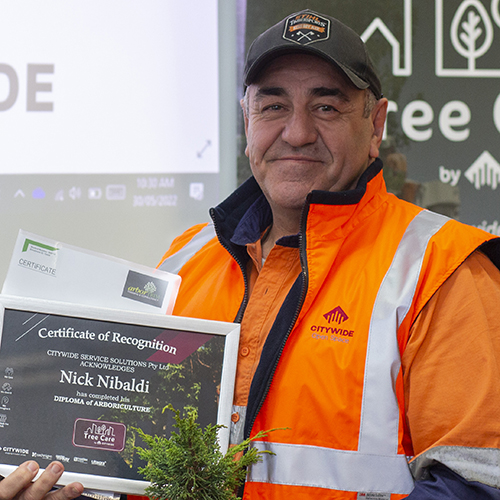 "Sadly, this industry is renowned for certain people jumping between companies in search of more dollars," says Nick Nibaldi (right), an 18-year Citywide veteran, who celebrated his Diploma of Arboriculture at the graduation event.
"I believe it should be more about being valued and having career prospects. At Citywide, we have great in-house training opportunities and various incentives for those who put in the effort. They may be small things – but I think it's more important to know that you're being noticed and appreciated.
"I've been cutting trees for more than 40 years and I've been at Citywide far longer than anywhere else," adds Nick. "That must say something."
Training on the house
Nick's boss, Tim Haigh, is a great example of someone who's risen quickly through the ranks at Citywide. "I hadn't even touched a chainsaw when I arrived here in 2015," says Tim. "For me, it wasn't all about money – I wanted to be in a position of leadership by my mid-40s."
Tim went one better when he became operations supervisor of our Bayside trees team earlier this year, aged 39.
"I knew early on that I'd stay in the industry," says Tim, "so when Citywide started showing interest in my career, I decided to return the favour. In this business, it's rare to find a company that will pay for all your training. But the only thing I've paid for since joining Citywide is my truck licence; all my other tickets, my Certificate III, and the diploma I'm doing now, have been paid for by Citywide."
Rob Buick, Industry Engagement manager at Arbortrim, which puts more than 30 Citywide arborists through the Certificate III in Arboriculture every other year, says training is critical for a company where salaries can be restricted by public sector budgets.
"Training is an essential part of any organisation's strategy to attract and retain staff, and Citywide does a lot in this regard," says Rob.
"Like many jobs, it's a trade-off. You have great security in working for a company with council contracts. That can also mean that sometimes the diversity of a job role is limited by the contract's requirements. It depends what the individual's priorities are. We work continually with Citywide to ensure that trainees undertaking the Certificate III get the variety of workplace practice for the range of competencies in their qualification."
A two-way commitment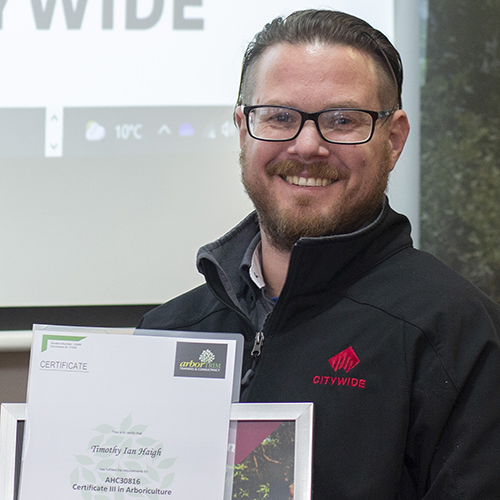 Tim Haigh (right) sees "the hard yards" of an arborist's role as part of a commitment that will be rewarded over time. "Personally, I find that people who are willing to put in the work and commit themselves to the business will find nothing but positive reinforcement here," he says. "If Citywide is willing to invest in your future, I reckon they're worth dedicating your career to."
Senior arborist Rod Fraser singles out Citywide's new training and development coordinator, Lisa Farchione, who's driving a program of structured learning and apprenticeships to lure more school-leavers into the business.
"Lisa is very engaged and genuinely interested in how our employees are doing," says Rod. "Having a person who's checking up on new employees, seeing how they're doing, and how their managers are treating them – I think her role is critical to our success."
According to Lisa, arborists will find a nurturing environment at Citywide – if they care to look.
"Like any trade, you have to put in the hard yards," says Lisa. "But we're here to help. If you put your hand up for training, there are a multitude of opportunities here. If you have any questions, some of the country's best arborists will be there to answer them for you.
"We've just celebrated 17 arborists gaining new qualifications – people of different ages, with different skills, and different aspirations. But the thing that really struck me is that every single one of them wants to stay at Citywide. They're not motivated by money – they're motivated by loyalty."
Media Contact:
Simon Mossman - Group Corporate Communications
M 0427 307 216
E simon.mossman@citywide.com.au
Roles currently available at Citywide:
Arborists
Apprentice arborists
Woodchipper operators
Tree assessors

Qualifications funded by Citywide:
Diploma of Arboriculture
Certificate III in Arboriculture
Certificate III in Horticulture
Levels 1 and 2 chainsaw operators
Elevated Work Platform licence
Certificate II in ESI powerline vegetation control
Energy Safe Victoria annual refresher
Medium rigid licence
Traffic management
First aid and CPR
Chemical use
Woodchipper/mulcher
Working safely (White card).