Sep 3, 2019, 03:00 AM
When 19-year-old Furkan Erkan landed a full-time asphalting job with Citywide last December, it represented the ultimate 'coming of age' for a new program providing work experience to promising students from Mount Alexander College.
But if Furkan's first job inspired his Year 12 classmates, it was nothing compared with the motivation it provided to another young MAC graduate with an equal passion to succeed.
Six months later, in June this year, Furkan saw his younger brother, Kadir, become the second graduate of Mount Alexander's VCAL program to gain full-time employment at Citywide.
Today, the brothers often work on the same 'patching' team, with Furkan, now 20, driving the asphalt truck, and Kadir assisting him with footpath and driveway repairs.
"It wasn't that hard for me to get in at Citywide," admits Kadir, 19. "They seemed to be very happy with my brother's work."
Indeed, Furkan has quickly emerged as a key member of Citywide's Commercial Civil asphalting team – and a flag bearer for a program the company hopes will soon support more school-leavers across Melbourne.
"He's a really mature kid who's gelled well with our team and really impressed us," says Commercial Civil Services Operations Manager Matt Gionfriddo, who initiated the program with MAC's Careers and Pathways Coordinator, Jens Boernemeyer.

"Furkan's brought a bit of cheekiness and fun to the job – but also a very strong work ethic and desire to succeed."
That desire – rare in many school leavers – prompted Matt to want to support Furkan even before he completed his 20 weekly VCAL placements in June last year.
"First we offered him casual work on weekends, then when he finished Year 12 we offered him a full-time role for a year, to save some money and decide what his future holds. Furkan is much more than an asphalter – and he needs to go on to university and broaden his wings."
Degrees of success
Spurred on by Matt's support, Furkan has been accepted for a civil engineering diploma at RMIT – an offer he has deferred with the intention of applying for a Bachelor degree next year.
"I know I need to go to university, and I will," says Furkan. "But right now, I'm enjoying earning some good money at Citywide. The people here are really supportive and respectful, and I really feel that I'm learning a lot."
As well as the training to get his truck licence, Furkan has done a traffic management course and learned to operate a variety of new equipment. "The bosses here seem to have some faith in me," he says self-deprecatingly. "They're really looking after me, giving me responsibility and helping me learn new skills. I actually look forward to coming to work every day!"
Citywide's work experience placement program was established in 2017 as a collaboration with Mount Alexander College and North Melbourne Football Club's award-winning community engagement cornerstone, The Huddle.

Since signing an MoU to support The Huddle in 2016, Citywide has created various career and training pathway opportunities for school leavers and young adults from a range of backgrounds.
At Mount Alexander College, a third student, 16-year-old Nahom Tekulu, recently completed Year 10 work experience at Citywide – and has also been offered weekend work while he completes his schooling.
"I need keen, capable people who are prepared to work on weekends, and I'm really happy to give these young guys a go if they come with the right attitude," says Matt.

"If you listen with your ears and your eyes, show enthusiasm to learn, and never be afraid to ask questions, we'll always have a place for you."
Jens Boernemeyer says that while MAC has sent students to many companies for work experience, the school's relationship with Citywide is a special one.
"We just had a Careers Day and Citywide sent five members of staff who gave up three hours of their mornings to give advice to our students," says Jens.

"For our kids, it's a great opportunity to hear from people they would not normally encounter, and really understand what their day-to-day work entails.
"Right now, we have another student who's about to start two weeks of work experience with Citywide. It's such a great thing for a company to invest so much time to help the young people in their community."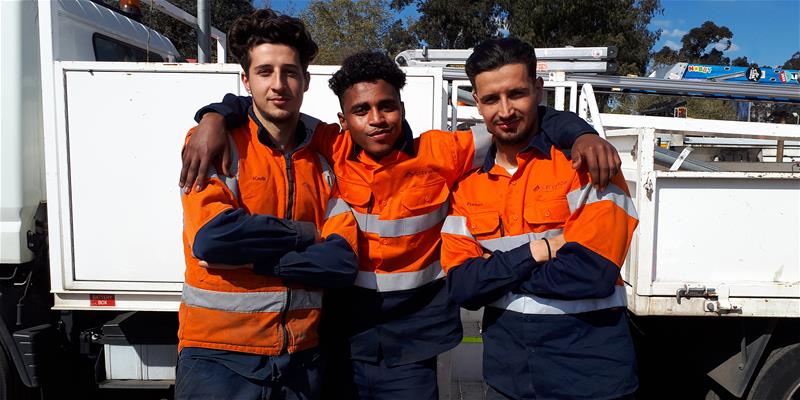 Above photo: Band of brothers: Kadir, Nahom and Furkan hit the ground running on the Citywide crew.
Below photo: Commercial Operations Leader Matt Gionfriddo welcomes Nahom aboard.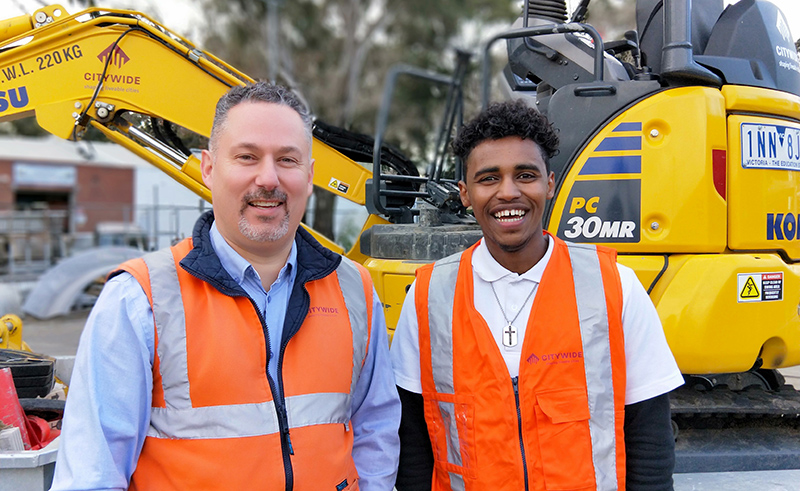 Media Contact:

Simon Mossman - Group Corporate Communications
M 0427 307 216
E
simon.mossman@citywide.com.au