Sep 9, 2019, 01:00 AM
A LIFETIME of service to the bayside Melbourne area community finally came to an end as Sullivan Street stalwart DAVE DINGLE retired on September 6th - 20 years to the day since he joined Citywide!

Colleagues and friends past and present turned out to a farewell barbie organised by Operations Supervisor Andrew Lefebvre as Dave clocked off for the last time from open space maintenance duties.

A lifelong bayside area resident, Dave began working life as an apprentice cabinet maker before joining the former City of Moorabbin as a council grounds maintenance worker.

When Moorabbin was divided into the present City of Glen Eira and City of Kingston councils in 1994, Dave joined Serco.

After three years with Serco, Dave moved around other open space council contractors, eventually joining Spotless, which occupied the present Sullivan Street Depot before it - and Dave - transferred to Citywide.

The rest as they say is history!

Outside of depot life, Dave was an active member of his local community, playing then coaching soccer at Brighton and Moorabbin.

More recently, lawn bowls has become Dave's sport of choice, playing for nearby McKinnon.

With a never-ending, seven-day weekend looming, Dave said the time was right to call it a day.

"I've got a new pacemaker now so I probably shouldn't be jumping in and out of tractor mowers at this age," he joked.

In his weekly video message to staff, CEO Chris Campbell said the well wishes of the company were with Dave as he finished up.

"It's sad and happy at the same time: sad to see our colleague go but happy that he is looking forward to the next phase in his life," said Chris.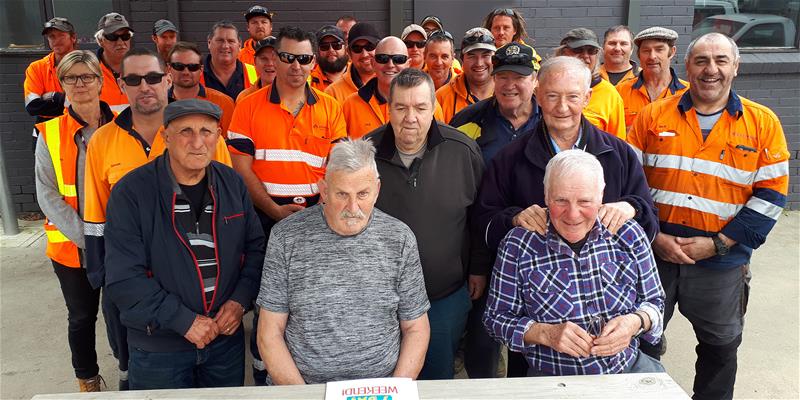 Photo: Dave (front, centre) is joined by friends and colleagues past and present for a farewell party at his depot on Friday.

Media Contact:
Simon Mossman - Group Corporate Communications
M 0427 307 216
E simon.mossman@citywide.com.au