Dec 6, 2020, 13:00 PM
The year of Coronavirus has also been the year of the bicycle. Tens of thousands of Australians have dusted off their trusty two-wheelers and rediscovered the joys of cycling on some of the world's best urban cycling paths.
At Citywide, we've also developed a new appreciation for this age-old human-powered transport. While our Melbourne crews have been building temporary bike lanes and safety barriers around the city, we've also expanded our partnership with the progressive pedallers at Good Cycles.
Based at our Green Street depot, Good Cycles is a ground-breaking social enterprise that helps at-risk young people get 'back in the saddle' by giving them work and training in new professions.

Since we got together in 2018, the partnership has expanded from collecting organic food waste to providing various nimble services that are helping Citywide's crews increase their efficiency, reduce their road trips, and free up technical staff for more complex assignments.
Over the past 12 months, Good Cycles has dedicated at least five of its 40 regular riders – or field technicians – to our city contracts, including road and footpath repairs, as well as inspections and maintenance of solar bins, compactors and recycling hubs across the CBD.
"It's amazing how much a dedicated technician with a proper tool kit on a cargo bike can achieve," says Good Cycles' Head of Operations, Jason Mok.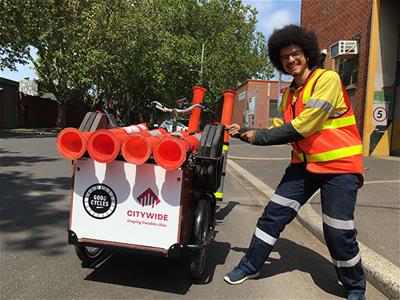 Filling in the cracks
The latest of these roles involves repairing and re-grouting loose or cracked bluestone pavers and concrete slabs to reduce pedestrian hazards and improve the appearance of footpaths and kerbsides.
As well as reaching sites with less congestion and pollution, Good Cycles' specially-adapted e-bikes enable their riders to do the work with significantly less obstruction than a regular truck crew.
For Citywide, this not only saves having to mobilise a 3.5-ton truck with two permanent employees, but saves carbon emissions, parking space, and dreaded "dead time" in traffic.
"It makes sense from every angle, whether it's operational efficiency, staff hours, or environmental impacts," says Good Cycles' Jen Arnold.

"Plus we're able to give a new job – and maybe even the start of a new career – to a young person in need."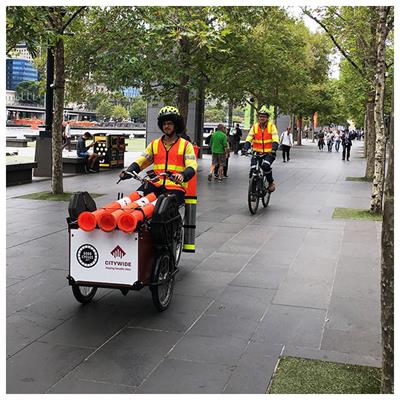 A blessing for Citywide
According to Joe Soldatos, who coordinates Citywide's Routine Maintenance teams, Good Cycles currently does 40-50 jobs every month, and the expansion to footpath and road repairs has been "a blessing" for Citywide.
"We get a lot more orders for bluestone than asphalt works in the city, and they nearly always have strict schedules attached to them," says Joe.

"Not only do Good Cycles get the job done promptly, but they're always careful and deliver good quality work. And if I have any questions, they're always very obliging in following up."
Allyce Reid, Citywide's Routine Maintenance Lead, describes how when the two companies were planning their partnership, they staged a "race" between a truck-based crew and a bicycle technician.
"They went to several locations: the truck got to some quicker and the bike reached others quicker," says Allyce. "But when you factor in the social and environmental benefits, there's no doubt that the bikes are the winners every time."
A natural partnership
Jason Mok says Citywide's work ethic and operational ethos have been a natural fit with Good Cycles.
"Citywide are really collaborative and keen to help us deliver new skills to young people who will benefit from them," says Jason.

"They see the value that Good Cycles bring to the community and they want to support us in this mission – it's not just about boosting revenue for them.
"There are a significant number of at-risk youth who've been able to develop critical new skills as a direct result of the work we're doing with Citywide. There's no better bottom line than that."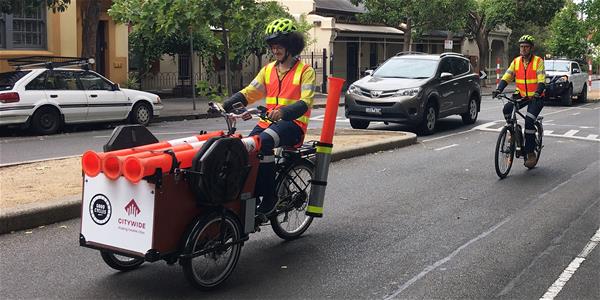 (Photos by Harry Plant)
Top: Team Member Ali Abdallah straps on the equipment to his cargo bike.
Middle: The Citywide-Good Cycles crew can safely transit through pedestrianised areas.
Above: Team Member Ali Abdallah is tailed by Operations Supervisor Adam Loiacono between grouting jobs around the city.
Media Contact:
Simon Mossman - Group Corporate Communications
M 0427 307 216
E simon.mossman@citywide.com.au