Jun 21, 2020, 14:00 PM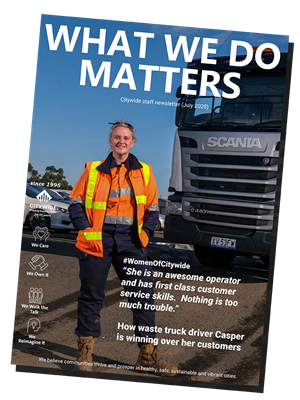 Keeping up with the boys is no longer an ambition for Casper Effemey. The 30-year old Citywide driver wants to overtake them, and prove herself "whatever my gender".
Like a growing number of women in physically demanding jobs, Casper is fed up with receiving accolades just because she's a woman.
"I've been offered jobs before just to fill a quota, but no thanks – that's not for me," she says. "I want to be the best at everything I do, and I want to be employed for being the best."
Three months after joining the waste collection crew at Dynon Road, Casper is on track to be just that.
"She's mastered all three operating systems – rear lift, front lift and hook – and she does it quicker than most of the guys," says Collections Manager Brett Crellin. "She's definitely already one of our best."
Born into the business
It's no surprise that Casper is excelling in her new role.
Growing up as part of a long-haul trucking business, she could drive a car at seven and an HR (heavy rigid) truck at 11.
"My dad always wanted me to drive, much to mum's horror," laughs Casper. "I did try the white-collar route, working for an insurance company for a few years – but the trucks kept calling me back."
In early 2019, inspired by "a strong 30-year itch", Casper decided to return to what she loves best.
First, she helped her sister Liv, who runs a traffic control business, by driving a truck-mounted attenuator ('bump truck') on several freeway construction projects. Then an opportunity came up on SEEK for drivers at Dynon Road.
"They didn't mention gender at all," says Casper. "So I wanted in".
Today, Casper is not only in – she's fast becoming a legend at Victoria's largest waste transfer station, where she drives a 28-tonne-capacity hooklift truck, the biggest in the Citywide fleet.
"I'm sure it looks pretty interesting: a little blond woman driving a 28-tonne truck," she says. "But at home I've got my own Mack Tipper, which goes to 45 tonnes full load.
"A lot of people don't actually realise that the bigger the truck, the easier it is to drive."
Praise from the top
Casper's work has certainly been getting noticed around the traps.
Adrian Valente, who oversees service contracts at the City of Yarra, describes her as "an awesome operator with first-class customer service skills".
"Please make her permanent to our area," says Adrian. "Having a driver with common sense and understanding is immensely helpful to a little depot like ours."
Casper drives trucks on all the runs at Dynon Road – commercial, green waste, resource recovery – for a multitude of public and private clients.
"Just today, I had a nursing home ring up to compliment me on how helpful and professional she was," says Brett. "She's fantastic at every aspect of this job – and there's no way I'm letting her go!"
So does her boss think Casper's gender is a challenge, or a blessing?
"To be honest, the latter," says Brett. "She has great passion for her work, she always puts the clients first, and she keeps her truck spotless. At the same time, she can talk the talk with the boys, and she's a bit of a tomboy…"
"A bit?" laughs Casper. "I'm a total tomboy. If someone was to describe me, they'd probably say I was a loud-mouthed tomboy.
"Put it this way – I have two pairs of shoes: my steel caps and my riding boots. The last time I wore heels was at my high school graduation!"
Media Contact:
Simon Mossman - Group Corporate Communications
M 0427 307 216
E simon.mossman@citywide.com.au