This page is being updated regularly. Please bookmark and check back in so you don't miss an update!
COVID-19 Info Stream
This site is your place to find all the latest updates, advisories and other relevant information about:
Our COVID-19 commercial and municipal cleansing & sanitisation services;
Large-scale workforce mobilisation on short and medium term health and community engagement initiatives;
Recruitment information and links to roles available;
Safety information, including the disinfectant products we use.
Whether you are a customer, jobseeker, community group, industry stakeholder or supplier, all the information you need can be found on this site.

Please also continue to monitor our social media channels - click each icon to the left of your screen or see below links - for our updates as they become available.
If you have a question or would like to get in touch with us, please use the Enquiry Form on our Contact page.
Citywide on Facebook
Citywide on LinkedIn
Citywide on Instagram
Citywide on Twitter
Seasoned chef finds sweet aftertaste following bitter COVID disruption
Jordan was preparing to set up a restaurant consultancy business when his professional dreams were scuppered by COVID-19.
Title :
Seasoned chef finds sweet aftertaste following bitter COVID disruption
Item date :
May 18, 2020, 14:00 PM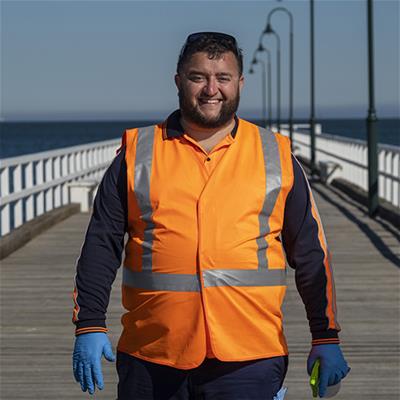 Jordan Lakin was on the verge of setting up his own restaurant consultancy when his professional dreams were scuppered by COVID-19.
But instead of sitting at home lamenting his loss, the 32-year-old has set out to get even with the virus.
Since April 20th, Jordan has been leading the first Citywide team charged with disinfecting public 'touchpoints' across the City of Port Phillip, as part of the Victorian Government's Working for Victoria job creation scheme for displaced workers in the COVID-19 crisis.
And far from wallowing in the bitter taste of his own thwarted dreams, the seasoned chef says he's enjoying the surprising sweetness of his new gig.
"I'm out in the open every day, doing an important job, and everyone we meet is genuinely happy to see us," he says. "People are always stopping to say thank-you and getting off park benches and tram stops so we can clean them.
"And at least five or six times a day, a car will stop in the street and shout to us what a great job we're doing and how much they appreciate it. How nice is that?"
Jordan has been a chef for 16 years and two years ago set out to establish his own restaurant consultancy – offering restaurateurs support to reinvigorate their kitchens, devise new menus, train staff, and all the other aspects of 'turning around' an old business.
"We'd laid all the foundations, established a great client-list, and had it all ready to go bar the website," he says. "But then COVID came along and ruined things!"
Like other hospitality operators, restaurants are likely to be among the last businesses to return to normal after the crisis – but Jordan knows he's lucky to have his cleaning job to fall back on.
And with a CV that includes leading restaurants in London and Melbourne, wildlife camps in the Kimberley, and the world's longest banana split in Innisfail (8.04 kilometres, if you must know), we reckon it won't be long before Jordan's back doing what he does best.
Media Contact:
Simon Mossman - Group Corporate Communications
M 0427 307 216
E simon.mossman@citywide.com.au
Content category :
Citywide Life
Cleansing Crew Member
Community Engagement
COVID19
COVID19 Cleaning Services
Health, Safety, Environment, Quality
People & Culture
Urban Issues