This page is being updated regularly. Please bookmark and check back in so you don't miss an update!
COVID-19 Info Stream
This site is your place to find all the latest updates, advisories and other relevant information about:
Our COVID-19 commercial and municipal cleansing & sanitisation services;
Large-scale workforce mobilisation on short and medium term health and community engagement initiatives;
Recruitment information and links to roles available;
Safety information, including the disinfectant products we use.
Whether you are a customer, jobseeker, community group, industry stakeholder or supplier, all the information you need can be found on this site.

Please also continue to monitor our social media channels - click each icon to the left of your screen or see below links - for our updates as they become available.
If you have a question or would like to get in touch with us, please use the Enquiry Form on our Contact page.
Citywide on Facebook
Citywide on LinkedIn
Citywide on Instagram
Citywide on Twitter
Seasoned cleaner leads sanitisation charge in Stonnington
Tony's business operations and people management experience find their perfect outlet at Citywide on Working for Victoria program.
Title :
Seasoned cleaner leads sanitisation charge in Stonnington
Item date :
May 13, 2020, 01:00 AM
As one of Melbourne's most experienced commercial cleaners, Tony Richter has been a real find for Citywide in rolling out one of the largest public sanitation drives in the city's history.
The 45-year-old father of five oversees 10 teams charged with sanitising high-risk 'public touchpoints' – from traffic lights and park benches to door handles and dustbins – across the City of Stonnington. By mid-May, he will have 80 people under his watch.
It's hard to believe that two months ago, Tony was staring down the barrel of long-term unemployment.
"In early March, I had a dream job lined up but then COVID arrived and it all fell apart," he says. "I was back home scratching my head, wondering what to do, when the Working for Victoria program began. Now I'm in a higher paying job than the one I'd been offered, with more responsibilities. It's amazing how things turn out."
Over the past 12 years, Tony has run two of Melbourne's busiest cleaning companies, including most recently a franchising operation for which he generated contracts and trained staff for up to 20 franchise partners.
But his business operations and people management skills have found their perfect outlet at Citywide, where he has marvelled at the capacity of a "non-cleaning company" to mobilise a major public sanitation campaign.
"To be able to get an operation like this moving safely and with a quality focus across three council areas in such a short period of time is absolutely phenomenal," he says. "I think the lack of red tape at Citywide has been critical to its agility – and its ability to coordinate resources from so many different places."
Tony says he was offered a similar position with a larger company, but is glad that he chose Citywide. "After just a few weeks, I feel that these guys are my people," he says. "This company has a great culture, upbeat and super-friendly. Everyone's very professional, but a lot of fun.
"I've already told the bosses that I'll consider another job with them when the current crisis is over."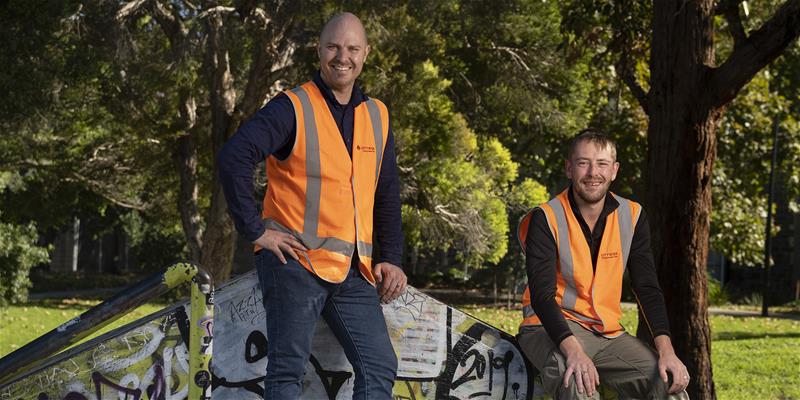 Main image: Team Leader Tony Richter (left) with Stonnington crew member Alex Barnes.
Media Contact:
Simon Mossman - Group Corporate Communications
M 0427 307 216
E simon.mossman@citywide.com.au
Content category :
Citywide Life
Cleansing Crew Member
COVID19
COVID19 Cleaning Services
Urban Issues